S2.10 Upside Down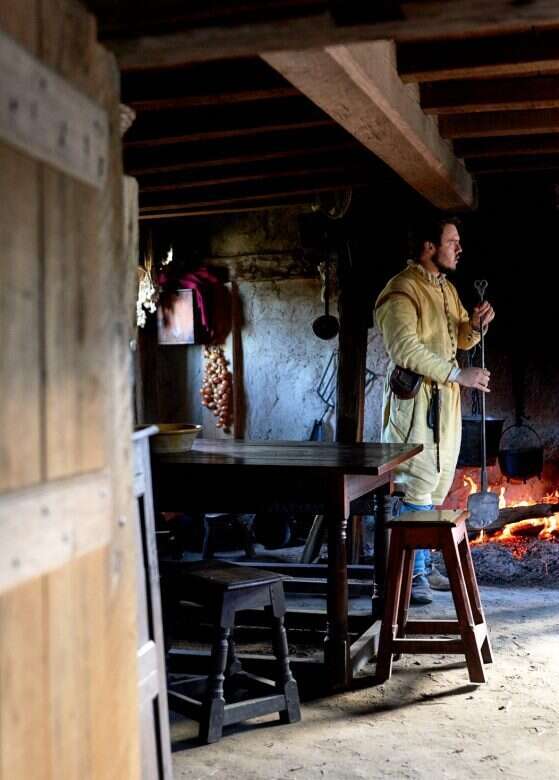 Did the pilgrims eat turkey?
"Our harvest being gotten in, our governor sent four men on fowling, that so we might after a special manner rejoice together after we had gathered the fruits of our labor. They four in one day killed as much fowl as, with a little help beside, served the company almost a week. At which time, amongst other recreations, we exercised our arms, many of the Indians coming amongst us, and among the rest their greatest king Massasoit, with some ninety men, whom for three days we entertained and feasted, and they went out and killed five deer, which we brought to the plantation and bestowed on our governor, and upon the captain and others. And although it be not always so plentiful as it was at this time with us, yet by the goodness of God, we are so far from want that we often wish you partakers of our plenty."
– Edward Winslow
Riddley Walker
In the far distant future, the country laid waste by nuclear holocaust, twelve-year-old Riddley Walker tells his story in a language as fractured as the world in which he lives. As Riddley steps outside the confines of his small world, he finds himself caught up in intrigue and a frantic quest for power, desperately trying to make sense of things.
A Canticle for Leibowitz
In a nightmarish ruined world slowly awakening to the light after sleeping in darkness, the infant rediscoveries of science are secretly nourished by cloistered monks dedicated to the study and preservation of the relics and writings of the blessed Saint Isaac Leibowitz. From here the story spans centuries of ignorance, violence, and barbarism, viewing through a sharp, satirical eye the relentless progression of a human race damned by its inherent humanness to recelebrate its grand foibles and repeat its grievous mistakes.
A Clockwork Orange
In Anthony Burgess's influential nightmare vision of the future, criminals take over after dark. Teen gang leader Alex narrates in fantastically inventive slang that echoes the violent intensity of youth rebelling against society. Dazzling and transgressive, A Clockwork Orange is a frightening fable about good and evil and the meaning of human freedom. This edition includes the controversial last chapter not published in the first edition, and Burgess's introduction, "A Clockwork Orange Resucked."
Dreamsnake
by Vonda McIntyre
In a far-future, post-holocaust Earth, a young healer named Snake travels the world, healing the sick and injured with her companion, the alien dreamsnake. But she is being pursued. . . .
The Peripheral TV Series
The Peripheral is an American science fiction streaming television series executive produced and created by Scott Smith. Produced by Amazon, it is based on the 2014 book of the same name written by William Gibson. Westworld creators Jonathan Nolan and Lisa Joy serve as executive producers, along with Athena Wickham, Steve Hoban, and Vincenzo Natali. Set roughly a decade in the future, with some new tech that has changed society in subtle ways, a VR gamer is delivered a connection to an alternate reality, as well as a dark future of her own.
Station Eleven TV series
Station Eleven is an American post-apocalyptic dystopian fiction miniseries created by Patrick Somerville based on the 2014 novel of the same name by Emily St. John Mandel. The miniseries premiered on HBO Max on December 16, 2021, and ran for ten episodes until January 13, 2022.
Andor
Andor, also known as Star Wars: Andor, is an American science-fiction action-adventure television series created by Tony Gilroy for the streaming service Disney+. It is the fourth live-action series in the Star Wars franchise, as well as a prequel to both the spin-off film Rogue One (2016) and the original Star Wars film (1977). The series follows thief-turned-Rebel spy Cassian Andor during the five years that lead to the events of the two films.
Rogue One
Rogue One: A Star Wars Story (or simply Rogue One) is a 2016 American epic space opera film directed by Gareth Edwards. The screenplay by Chris Weitz and Tony Gilroy is from a story by John Knoll and Gary Whitta. It was produced by Lucasfilm and distributed by Walt Disney Studios Motion Pictures. It is the first installment of the Star Wars anthology series and an immediate prequel to Star Wars (1977). The main cast consists of Felicity Jones, Diego Luna, Ben Mendelsohn, Donnie Yen, Mads Mikkelsen, Alan Tudyk, Riz Ahmed, Jiang Wen, and Forest Whitaker. Set a week before Star Wars, the plot follows a group of rebels who band together to steal plans of the Death Star, the ultimate weapon of the Galactic Empire. It details the Rebel Alliance's first effective victory against the Empire, first referenced in Star Wars' opening crawl.
THX 1138
THX 1138 is a 1971 American social science fiction film directed and co-written by George Lucas in his feature film directorial debut. It is set in a dystopian future in which the populace is controlled through android police and mandatory use of drugs that suppress emotions. Produced by Francis Ford Coppola and written by Lucas and Walter Murch, it stars Robert Duvall and Donald Pleasence.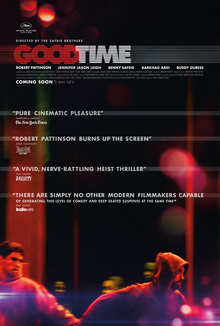 Good Time
Good Time is a 2017 American crime thriller film directed by Josh and Benny Safdie and written by Josh Safdie and Ronald Bronstein. It stars Robert Pattinson as a robber who tries to free his mentally disabled brother, played by Benny Safdie, all while eluding his own capture. Barkhad Abdi, Jennifer Jason Leigh, and Buddy Duress co-star. The original soundtrack was by electronic musician Oneohtrix Point Never. The film was selected to compete for the Palme d'Or in the 2017 Cannes Film Festival's main competition section. The film received critical acclaim for Pattinson's performance, the direction, story, and soundtrack.
Uncut Gems
Uncut Gems is a 2019 American crime thriller film directed by Josh and Benny Safdie, who co-wrote the screenplay with Ronald Bronstein. The film stars Adam Sandler, Lakeith Stanfield, Julia Fox, Kevin Garnett, Idina Menzel and Eric Bogosian. The film tells the story of Howard Ratner (Sandler), a Jewish-American jeweler and gambling addict in New York City's Diamond District, who must retrieve an expensive gem he purchased in order to pay off his debts. Filming took place from September to November 2018. The original score was composed by Daniel Lopatin. Uncut Gems was Sandler's first widely released film in an on-screen role since Pixels in 2015.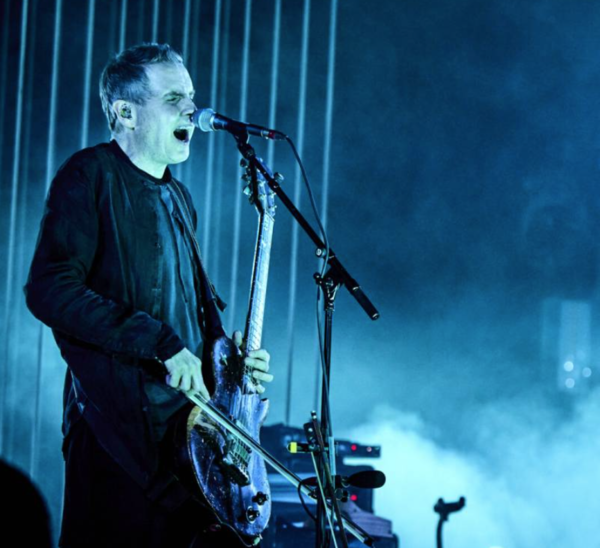 Sigur Ros
Sigur Rós's third album, and for many the most quintessentially "Sigur Rós" record, celebrates its 20th anniversary on October 28, 2022. The album has been remastered by legendary mastering engineer Ted Jenson at Sterling Sound, who also mastered every Sigur Rós album from Takk onwards.
Heima
Heima (Icelandic pronunciation: ​[ˈheiːma]; at home) is a documentary film and double DVD set about the tour around Iceland in the summer of 2006 of the band Sigur Rós. During the tour the band played two big open-air concerts at Miklatún - Reykjavík (30 July) and Ásbyrgi (4 August), as well as small scale concerts at Ólafsvík (24 July), Ísafjörður (26 July), Djúpavík (27 July), Háls, Öxnadalur (28 July) and Seyðisfjörður (3 August). In addition, a protest concert against the Kárahnjúkar dam was performed at Snæfellsskála (3 August). The documentary also includes footage of an acoustic concert played for family and friends at Gamla Borg, a coffee shop in the small town Borg, on 22 April 2007.