Season 4
Wednesday, November 1, 2023
we are currently working to improve the audio player. Please check back.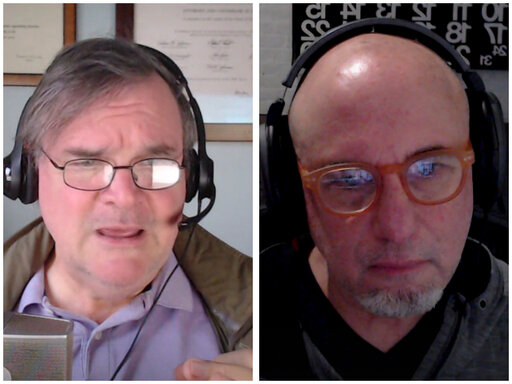 We had a far ranging conversation from the novel We by Yevgeny Zamyatin, to the song It's No Game by David Bowie. In rough order, we talked about THX 1138, and its relationship to We, as well as 1984, and This Perfect Day by Ira Levin. Lionel mentions the Netflix show Bodies, and 1899, Dark, and the trend started by the show Lost. From there we move on to the most metal thing ever, an Iron Black Dwarf as referenced by the PBS series SpaceTime. The work of guitarist John Maclaughlin comes up, and Jim tells Lionel that some of our episodes are now found on YouTube.
Thus begins our discussion about ambient music, and what it is. Jim mentions that he has been turned on to a new artist named Glenn Jones by our past guest, David Partikian. Comparisons are drawn to Leo Kottke and especially John Fahey. Jim says that there is something ambient about these guitarists with the exception of most of Kottke's work. Lionel mentions the book, The Ambient Century by Mark Prendergast and what he learned from it. Thus begins a furious reference bomb session, touching on Erik Satie, the Goldberg Variations, Evening Star and No Pussyfooting by Robert Fripp and Brian Eno, early cylinder recordings and Musique Concrète, the albums God Save The Queen / Under Heavy Manners, and Exposure by Robert Fripp, featuring Daryl Hall, and Peter Gabriel.
Continuing in this vein, Lionel talks about some ambient radio shows like Star's End and DJs like Chuck van Zyl. Naturally, we return to Joe Frank, Work in Progress. Was Windham Hill an ambient record label? We think not. Why not? It comes back to the question of genre and the question of Speculative Fiction vs Science Fiction vs Fiction. Lionel asks "what is jazz?" and talks about hearing the work of Kurt Rosenwinkle on KRTU.
Back to Eno, Jim talks about is experience watching the documentary of the recording of The Unforgettable Fire. At this point we arrive at It's no game David Bowie. Jim talks about how he can't stop recalling the song Wide Awake which was part of the same Unforgettable Fire project but came out with a more raw sound than Pride- In the Name of Love. We briefly devolve to our 12 year old selves and run through some Onanista tropes. Jim suggests that even Eno succumbed to the influence of the record label in having to record the latter. Lionel reasserts Eno as a genius as evidenced by Side A of Remain In Light by Talking Heads. Also mentioned is Sacred Songs by Daryl Hall. Lionel brings up Gymnopédies by Satie, as a way to bring us back to the question of ambient music. We propose creating a new podcast called "Now THAT's Ambient!" We agree that Hiemal would be well represented there. Finally, Jim asks whether Lionel would consider The Tide, a track from Utopia Revisited, an ambient track, and Lionel says he will give it another listen and get back to him.